Common Threads Partnership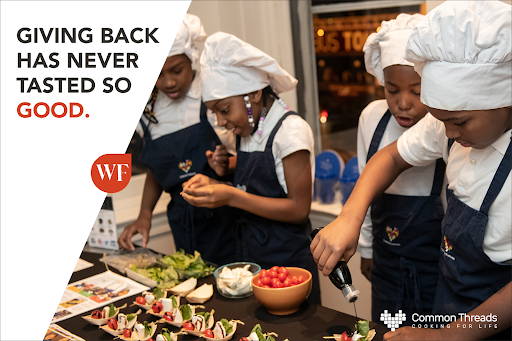 We're thrilled to announce a new effort that supports Common Threads, an organization dedicated to helping kids in under-resourced communities learn about healthy eating through hands on cooking classes.
In honor of this new partnership, Wild Fork is donating turkeys to Common Threads families this Thanksgiving. We invite you to join us in making Thanksgiving extra special this year by donating any amount to Common Threads.
$20 buys a whole turkey for a family in need
$55 buys a Thanksgiving meal for four
$130 buys a Thanksgiving meal for 10-12
Common Threads is a national nonprofit that provides children and families cooking and nutrition education to encourage healthy habits that contribute to wellness. We equip under-resourced communities with information to make affordable, nutritious and appealing food choices wherever they live, work, learn, and play. We know that food is rooted in culture and tradition so we promote diversity in our lessons and recipes, encouraging our participants to celebrate the world around them. Learn more at commonthreads.org.

Wild Fork provides grants and in-kind product donation to Common Threads Cooking Skills & World Cuisine classes, including virtual programming during COVID-19. This 3rd-8th grade program engages students' tastes and minds by exploring the culture and cuisine of 10 countries.
In the kitchen, young chefs learn how to follow a recipe, prepare and cook ingredients, and always leave the kitchen as clean as they found it! This class challenges students to use a wide variety of cooking equipment and ensures that they know how to safely use each tool, including chef's knives, graters, peelers, stoves and ovens. Graduates of this program are able to cook a balanced healthy meal. Basic and advanced levels are available.